Blockchain: Bridging the gap between sustainability and business sense
Author

Sarah Wood, Head of Digital Insight and Engagement, and Nicolas Heath, Junior Consultant

Date

2017-10-18
Blockchain is helping people rethink the way they are doing business, and sustainability looks set to be the next frontier. 
Creativbloq provided one of the most lucid explanations circulating the internet: "blockchain is a decentralised database (or ledger) that records information in a way that is permanent and public." The operational advantages of this secure and trackable database have led to $1bn in investment from financial leaders in the past two years alone. The Harvard Business Review has even suggested that for the financial system blockchain might be 'the new internet'.
Now, the sustainability benefits of a system founded on traceability, integrity and disintermediation are being recognised, from helping advance responsible sourcing, to facilitating renewables trading.
Key trends helping drive this uptake from a sustainability perspective include:
o   Increasing technological access, affordability and versatility
o   Recognition of the importance of transparency and visibility in increasingly complex supply chains
o   The need for business to implement breakthrough approaches to global issues
o   Heightened expectations from consumers around transparency and action on social and environmental issues
To help understand blockchain's increasing role in the sustainability debate Salterbaxter took to social media with our insights service SBTribe©. Results suggest that the joint business and sustainability cases for blockchain may provide the perfect opportunity to move sustainability up the boardroom agenda.
Mapping the advantages of blockchain 
Our goal was to understand what qualities are associated with blockchain versus other comparative technologies. To do this, we mapped social media 'mentions' for different technological business and sustainability benefits on one of the most prominent uses of blockchain by business—the supply chain. The results paint a clear picture of each technology's perceived benefits and applications.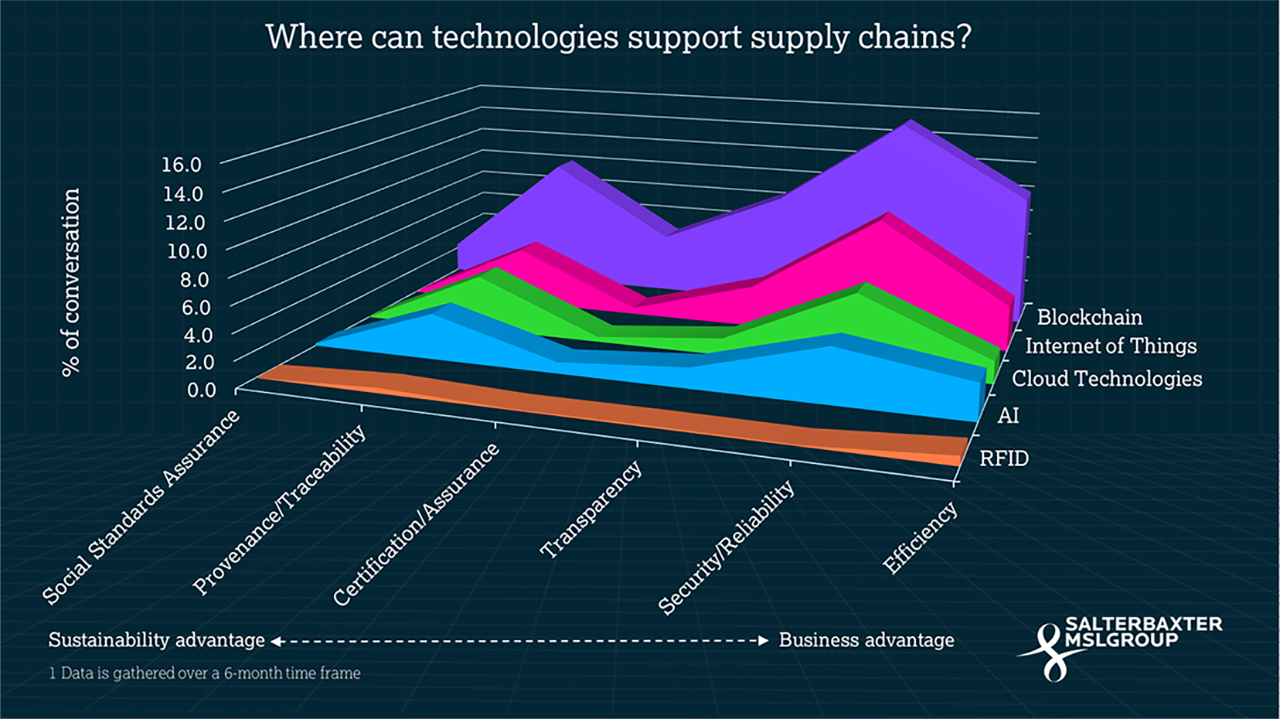 Our findings for blockchain are telling:
1.    Blockchain stands out as the most discussed technology across all profiled benefits
2.    The sustainability benefits of blockchain are becoming highly recognised, for example provenance and traceability is on par with energy efficiency.
3.    Blockchain is a natural partner to the Internet of Things, both having many shared benefits and straightforward integration (IoT data can be fed directly into a blockchain).
4.    Recognition of blockchain's potential to assure the historically challenging area of social standards throughout the value chain is emerging.
What does this suggest for the future of supply chains?
The uses of blockchain that emerge from the research demonstrate the wide variety of applications for both sustainability and purely commercial purposes:
·      UK start-up Provenance has been developing the technology to help companies map suppliers, assure the sustainable origins of their products and integrate social assurance standards
·      In the food sector, Walmart has trialled blockchain to tackle the traceability of 'at risk' food products.
·      Mining company BHP Billiton has harnessed the security of blockchain to record critical information about rock and fluid samples.
·      Sony and Sony Global Education are developing a new system on IBM Blockchain to manage learning data
 As blockchain solutions move beyond trial stages, the realities of the potential utility of blockchain will begin to surface. A fully credible and reliable information system could prove to be a revolution in how companies are expected to manage and report on both financial and sustainability information, and assurance could become an automated process.                                                               
Imagine a company able to prove instantaneously they are fully renewable by providing the energy certifications attached to the blockchain at every stage. Or instead that none of their produce has been unethically sourced. Situations like the horse meat scandal that shook the food industry in 2013 may become a thing of the past.
What does this mean for sustainability and the boardroom?
As the research bears out, blockchains are still considered primarily for their business applications, with security and efficiency its most discussed qualities. Yet, as companies begin to explore the technology for these operational benefits, the time is ripe to leverage its concurrent sustainability potential to help tackle critical ESG issues.
Blockchain may just prove to be the tipping point for the sustainability debate in the boardroom: providing a solution to sustainability issues such as responsible sourcing that can simultaneously improve the efficiency, security and transparency. This will undoubtedly play an important role in helping businesses make more informed and strategic decisions.  The reduction in bureaucracy and the paper trail may even have the potential to make the introduction of blockchain technology a cost positive initiative.
Companies may have new reasons to consider blockchain as it starts to be explored as an auditing tool. Widespread adoption could bring about system change, with more accessible and reliable information for both companies and their stakeholders. The accessibility of this data could also trigger a new era of KPI setting and measurement, and help further converge financial and non-financial reporting. As reporting expectations continue to rise (for example climate-related financial disclosures), blockchain could open up new opportunities to serve up timely, investment-relevant information on company performance. This would play an important role in further embedding sustainability into company valuation.
Taking blockchain to the 'sustainability mainstream' 
Blockchain remains a nascent technology. Before any large-scale uptake can take place ground-breaking collaborations will be needed to accelerate integration.  This isn't just a challenge of infrastructure (although that in itself is considerable) but one also of standards, protocols and processes that could extend beyond the supply chain. Much like the circular economy opportunity the investment and coordination needed is considerable, yet the advantages promise to be greater.
Indeed, our research shows that Maersk, Walmart and IBM are already dominating online conversation and emerging as blockchain pioneers. As other companies race to catch-up, we are likely to see more collaborations, like the recent food industry  commitment. As these changes occur blockchain is set to make a serious impact on advancing the sustainability agenda.
An improved understanding of the reciprocal benefits of blockchain for businesses and society, like that shown in the SBTribe© research, will be essential to help galvanise company action and collaborations. If this uptake can be achieved the benefits will be not only positive for blockchain, but for society as a whole and the changing relationship businesses have with it.